I've just mentioned my
Chicken and mushrooms in crème fraîche sauce
-dish (which needs a fancier name really) and said something about making two other dishes in those 30 minutes. Here's one of the others. It's a really simple salad, which unfortunately I can't really call simple salad anymore since I already have a salad named that way. I'm going to anyway though. This is my Simple Salad 2: Tomato & Paprika style!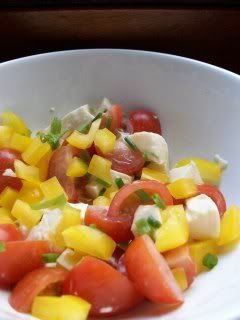 Ingredients:
Handful cherry tomatoes (I counted 6)
1/4 yellow paprika
1/2 mozarella
Chives
1. Just cut everything in desired size.
2. Do mix before eating.
3. Yeah, that was it really.
Tadaa! I'm so brilliant at writing salad recipes! Maybe I can try making money out of this, I know people have! If you want to make it a bit fancier throw some salt & pepper into it somewhere or add a salad dressing or even some oil. Isn't it great? Anyone can be a master chef like this.
P.S. Do mind your fingers when cutting.