Yes, it exists! Well, now it does. Since I decided to make a smoothie with the ingredients I had left from preparing a carrot cake. I really liked the taste of it as well. Since I didn´t add any of the sugar, vanilla essence, maple syrup, etc. yet it was quite healthy as well!
Okay, so it doesn't look as good as you might want it, but what do you expect? Carrots, dates and raisins don't blend into the most beautiful colours. I promise, though, that you will completely forget about what it looks like once you taste it!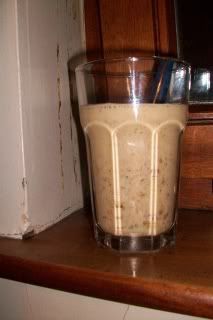 Ingredients:
Handful grated carrot
2 spoons raisins
2-3 dates
1 spoon grated coconut
bit of orange zest
3-5 spoons apple juice
(Greek) yogurt
1. Put all the ingredients except the yogurt in a bowl and leave to soak for a bit.
2. Add the yogurt to the bowl and mix.
3. For an unhealthier version: add sugar or maple syrup and vanilla essence. Walnuts also go with this very well.
I still have a lot of recipes waiting for me to type them all out. I was thinking of writing a post on
kitchen notes
, since most of them are just 2-step recipes with horrible pictures (my photographic skills decreased since I've been in Belfast), but still quite worth writing down. At the very least I need to remember the recipes I make so I can keep improving and find the perfect recipes!