Although this was one of the easiest things ever, I thought I'd write a recipe for these cute smoothies as well. I used this recipe on
my sweet dessert table
(check it out!). Basically it's just layers of mashed fruit and you can make any combination you can think of. But here's what I ended up using:
Bottom layer:
Sugar melon
Green grapes
1. Remove all twigs and peel, slice the sugarmelon into smaller pieces and mix everything with a blender.
Middle layer:
Raspberries
Blueberries
Yoghurt
1. Put the raspberries and blueberries in the blender and add a spoon or two of yoghurt.
Top layer:
Strawberries
Banana
1. Put everything in your blender again and mix!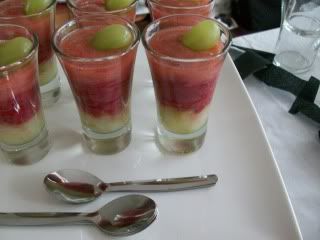 To make the layers:
1. Start with the first 'smoothie' and put two spoons into the glass, depending on how large your glasses are.
2. Very gently pour the second smoothie on top. Start with half spoons so the smoothies don't sink into each other and blend.
3. And at last add the top layer. Use a grape to garnish and done!
One of the easiest and quickest things I've made from the whole dessert table and in my opinion also one of the most adorable things on it. Grapes might actually not be the best garnish for smoothies. As you can see they sink into the smoothie a bit. Of course, strawberries always work as decoration.
Me and my mom have been looking for the perfect kind of glasses for a few years now. We never found anything that was really worth it and it was always really expensive with prices ranging from 6 Euros to 20 or more. This set cost me 3 Euros including the spoons. I put these little glasses on a plate I got from a Japanese set I bought a while ago (it included bowls, plates, spoons, chopsticks and little sauce bowls). That plate is standing on an upside down oven tray. I tried to use so much stuff I already had for decoration or to add some 3D into the table. Would you have thought of upside down oven trays?
P.S. I wouldn't have either, but they were right in front of me when I needed 'something higher'.