What's with people and somehow always saying 'yes' when asked to do something? At least half the people I know have this same damned problem! You get asked to bake cakes for a party, and somehow the answer 'yeah sure, dun worry, would LOVE to' comes out of your mouth. Suddenly I've forgotten the hell I've been through trying to organise a high tea for christmas and start organising the cakes I have to make. Luckily halfway you hear you have to make 3 in stead of 4 cakes, which saves you some trouble. No one's helping you when they give you 'ah, just make something. I don't mind what you make' and all your suggestions end up in 'oh, that sounds nice!'. So basically, there I was, the idiot that said yes to making three cakes for a weekend inbetween all the essays, exams and presentations that also needed work. I didn't particularly feel like making anything too special or too creative, so here was what I decided on: my special rich fruitcake (secret recipe!), a chocolate cake (cuz everyone loves chocolate) and cake with.. whipped cream? (cuz that's simple!)
So here's my first brilliant idea: chocolate cake, with cherries and chocolate fudge frosting and decorations to make it look less boring!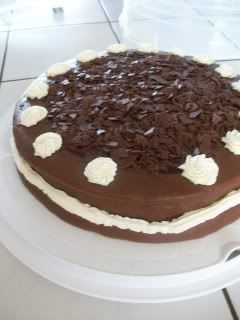 Note: I made two large cakes (24 cm?) and put those on top of eachother. So, I used the recipe twice. Just once, the recipe should be enough to conver two 18-20 cm (7-8 inch) cake tins.
Ingredients:
5 eggs
175 gram caster sugar
50 gram flour
50 gram cocoa powder
75 gram butter
1. Whisk the eggs and the sugar until the mixture is thick and pale (5-8 minutes).
2. Mix the the flour and cocao powder together and sigt it over the eggmixture. Fold in gently. (I do this in 2-3 additions, because somehow that works for me)
3. Melt the butter and sprinkle it over in drops and fold it in. (This takes about 5 additions)
4. Pour the batter into a large tin, or devided it between two smaller ones. Make sure the tins are greased.
5. Heat the oven to 180 degrees Celsius (or 350 Fahrenheit) and, once preheated, leave the cakes in for about 24-30 minutes.
6. Leave the cakes to cool for a while before we get to the decoration!
Fudge frosting Ingredients:
50 gram chocolate (dark and/or milk)
50 gram butter
3 tablespoons milk
1 tablespoon vanilla essence
250 gram icing sugar
1. Put everything, except the icing sugar, in a pan over a fire and wait till everything has melted and is stirred together (dont wait for it to stir together, put some actual effort into this part).
2. Add the icing sugar to thicken the mixture – and for more sweetness. I felt I needed it all, but perhaps you decide a bit less will do as well (if you use less than, say, 200 grams though, the frosting will never get thick again).
3. Leave it to cool slightly and spread it over the cake
Note: Be quick on the spreading! In my case the frosting started to harden real fast and it was a real pain spreading it over the cake.
More notes: I had to use 2,5 times this recipe to cover my cake. When you chose to double the ingredients, you dont have to double the amount of vanilla essence, the essence is strong enough to use only once.
Last note: before we start on this lovely frosting, make sure to level the cakes by cutting oddshapped tops off with a scewered knife, place one of the cake upside down on a tray, spread cherries over that, place the other cake upside down on top of that, THEN use this frosting. (You can also use the frosting as a dam to keep the cherry filling where it's supposed to be. For this, just make an outer circle of frosting on the bottom cake and put the cherry filling into that).
Decoration Ingredients:
Whipping cream
Sugar
Cherry filling for pies
Chocolate sprinkle things
1. Before decorating spreading the fudge frosting over the whole cake, make sure to have used the cherry filling for inside the cake. (See about three sentences back on how to do so.)
2. Then we use the fudge frosting and leave it to cool. Hopefully you have some of the jelly from the cherry filling left: spread this over the top of the cake in a big circle, leaving a bit of the edge free.
3. Sprinkle the chocolate sprinkles over the jelly (the main purpose of the jelly was to make the chocolate stick!).
4. Before you serve the cake, whip the whipping cream until stiff. When stiff, whip in the sugar until you like the taste. Then decorate the cake with an edge around it and puff circles of cream around the edge you left before. And Tadaa! Done!
Note: Make sure to do the whipping cream last and before serving. Whipping cream tends to go off quite fast.
Last note: This cake is really rich! I haven't been able to taste much myself – I think I had just one bite. But my sister and nieces had a piece and they both decided on an extra large piece because the cake looked good (thank you, thank you!), but both ended up leaving about a fourth of the piece they took because it was too rich and they just couldn't eat any more. Everyone said it was delicious though. I wasn't exactly prepared for the rain of compliments I got that day. For some reason everyone felt the need to say the cakes were delicious at least once, or in my mom's case at least a million times including an order to make a cake again for her birthday! So next up, my mom's favourite cake:
Lemon cream cake
. Okay, so I haven't exactly decided on the name yet, it has my homemade lemonjam in it, it has cream cheese in it, it has whipping cream all over it, it has royal icing decorations I made and it's really just plain sponge cake. Any ideas?