My vacation to Italy was in 2009, so it's been quite a while. But since I'm going through a lot of old pictures, it doesn't hurt to post these anyway.
Though it was over 40 degrees Celsius there half of the time, I died of boredom at some points and I was constantly dying a long agonizing death – this vacation was quite memorable. Not in the very least because of walking with the dogs in that area, which resulted in having bats in my hair! Okay, so not quite that literally, but it must've been close! I swear those things don't watch where they're going, but they make cute sounds and seeing them shoot all over the place is quite funny. Also, the roads there were deadly! The road to the house we rented was a wobbly, circling road of nothing but sand sand and sand. I remember some of the places there and what it looked like and cute cities with loads of small rounds and fancy little tourist shops or even the musea we went to. Also – which I doubt many people would – I remember supermarkets and food! You find so many things in there which you just HAVE TO try!
For instance: chocolate pasta! Way to go if you can resist this!
I've made quite some pictures of just 'normal' groceries that I couldn't resist. It's also where I learned of Chocolate with Salt (Lindt). Don't have a picture of that either, although I kept the package (I have an obsession with packaging T.T). Here are some pictures I wanted to share though. Made in a very lovely teahouse/coffeshop (not by dutch standards) which had a really sweet interior and was very quiet compared to the stamped full city. I probably don't want to know how much money we spent there, but here's some of the treats we had: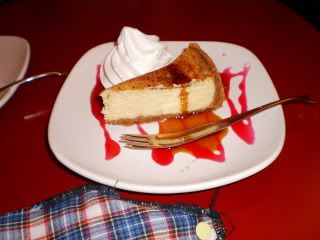 I'm guessing one is some sort of cheesecake, the next something with berries and the last has something to do with lemon. I really wouldn't know, I doubt I knew even if I had the menu now. Now for the panforte we had at some point as well. Damn, I love panforte! Too bad it's so very expensive here when you have to buy it from italian specialty shops. Together with the nougat you can buy there, I bet they must be my favourite italian sweets.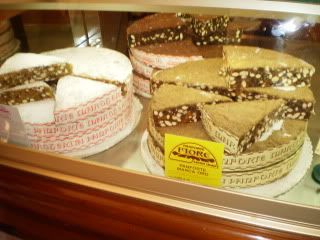 Here you see one of the courses we had at a wine shop (my parents would go all over the place to taste and buy wines and oils). Aren't these called bruchetta? I believe one has paté on it, one with sweetened unions, something with cucumber, one with tomatoes and oil and the last Im guessing was ham or bacon. Wasn't bad, except that we all hated the paté.
Last picture from my collection: us at a restaurant. Eating pizza, cuz you can't go to Italy and not eat pizza! You just gotta love messy full tables, with everyone eating their food, or -like we like to do- eat eachothers food too. Enjoy!
(It's a miracle I remember so much about something so long ago!)