One of the things I learned in Greece was that I'm going to definitely need a juicer of my own one day. I think I stole the juicer there at least once every day and a lot of fruit to go with it! One of the things I tried out that went together surprisingly well was this recipe: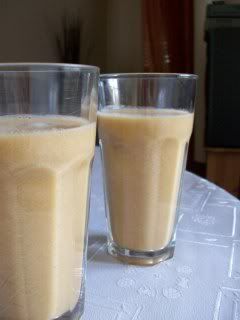 Ingredients:
1 slice sugar melon
2 peaches
1. Throw through the juicer, mix in some ice cubes and done!
To everyone's surprise sugar melon goes very well through a juicer. We didn't try the watermelon, because basically it's all juice, but perhaps that turns out really nice as well. We did use a lot of peaches since we bought quite a lot and combined them with apples and in this case sugar melon. Another recipes you're going to have to try if you have a juicer is this one:
Apple and Carrot juice
Ingredients:
2 apples
5 carrots
1. Throw in the juicer, mix some more ice cubes in and more juice for another day!
If you don't have any juicer, you can always throw these in a mixer. It will end you up with a thicker juice. If you're very much against then you can always put it through a sifter. I'm guessing it wont really work with apples and carrots as they don't contain a lot of juice. In the worst case you'll have to buy apple juice and carrot juice and mix them!