Just to put things on a row, and at the same time trying not to make it look messy, here's a list of the Valentine themed treats I've made! Enjoy!
Valentine themed cupcakes
Cupcakes always go down well, why not try these for valentines?
Valentine's bonbons
Little treats for with tea? A very nice idea to hand out in little bags or boxes!
Valentine's cream-filled cake
A real cake it is! A very nice idea for a party, or just to randomly treat the family with Valentines!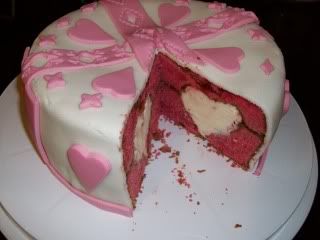 I hope you enjoy! Click on the titles for the links to the recipe.