Oh, we're really in the Valentine's theme aren't we? Why not some cupcakes too?
I made these for a party of my father and sisters birthday which happened to be celebrated on the 14th of Febuary, so they got a Valentines theme.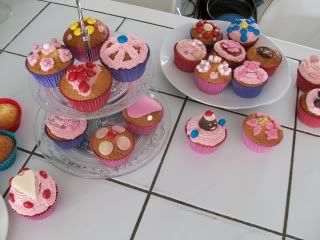 For the cakes themselves, you can look up the recipe here:
Valentines cream-filled cake
Basic cupcakes
Before I baked the cupcakes, I hid little chocolate eggs in the middle of the batter and on some I put a little chocolate cup on top. And some had a chocolate covered nut suprise in the middle. I really felt like making it a bit special!
In the corner of this picture you can see one with a chocolate cup on top, that I didnt decorate yet.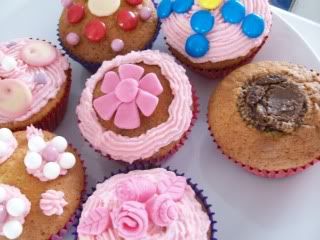 I used different types of decoration on the cakes, but basically I had fondant and cream. I used the fondant on the Valentines cream-filled cake as well. It was a bit dry somehow and kept breaking on the cake, but on these cupcakes it was fine. I couldnt add butter or water though, to make it less dry, cuz then it would stick to everything!
For the marshmallow fondant the basic recipe was:
450 gram marshmallows
900 gram powdered sugar
3 tablespoons water
1 tablespoon vanilla essence
colouring as much as needed
You start off with dubble-boiling the marshmallows with the water. Then you mix the rest in. I found it easiest to just put it in the breadmachine on the kneedingcycle. But a mixer with special hooks for dough should work just as well.
I ended up needing loads more powdered sugar though. So you might want to start out with a little less of marshmallows! There are great video's on youtube that can help with this. Just look up "marshmallow fondant". Until I can provide a better recipe or even a video myself, you're going to have to do with that!
I can help you with the cream though! The amount of the ingredients are just a rough indication for what you need. If you want it to taste more sweet, add more powdered sugar, if you want it less sweet, less. For the pink cream you're going to need:
250 gram mascarpone or other cream cheese
half a cup powdered sugar
1 teaspoon vanilla essence
food colouring, as much as wanted
This one is really easy: mix! My favourite electric mixer works for everything! Then spread it on cupcakes and smoothen it with a knife or so.
This one was an attempt to something that looks like what they call a Topsy Turvy cake. I guess it just doesn't work for cupcakes that well. Admitted I didn't look into this that much yet. It's something I'm gonna have to work on!
I had a lot of little things for the decoration I used on these.
Strawberry marbled chocolate buttons
M&Ms
Little ball candy
Heart sprinkles
Shapes I made of candymelts
The fondant
And the cream
Then it was a matter of decorating. I made sure not two cupcakes looked the same! I was really proud of the results! My family gave me a lot of compliments about it as well, but somehow that just makes me suspicious...!
I hope it's of any use, or you at least enjoyed the pictures and it can help with some inspiration for your parties! I'll make sure to blog soon again!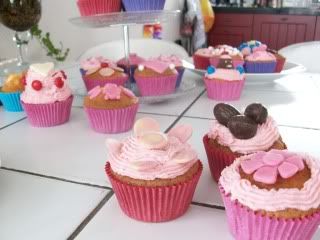 What do you think of my easter-themed cupcakes up front?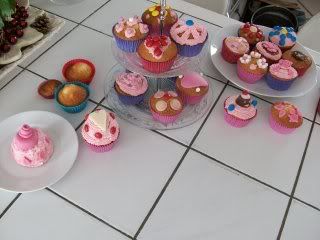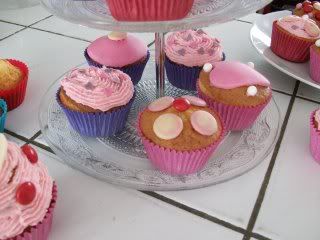 This is the guy that was protecting aaalll the little cupcakes and the one that I thought was totally brilliant! I love him! His mouth was kinda hard to paste on, so he looks a bit grumpy!