You know when you're trying so hard on a recipe, and somehow you just completely FAIL? I have it too sometimes, unfortunately. Luckily some things can be fixed, or masked, but some things you can just better throw away. Perhaps I should try experimenting a little less sometimes, and just stick to the recipe. Or stick to simple things.
I dont know why exactly, but I have some pictures of some memorable failures, some worse than the others. Why not share them anyway?
Let's start out with my very first cakes. Not exactly Kitchen Disasters, as they were quite tasty. I never got to taste the Marshmallow one. My family finished it by the time I came back from work. But honestly, they're not really beauty's are they?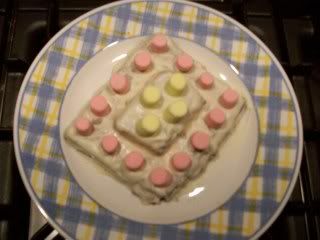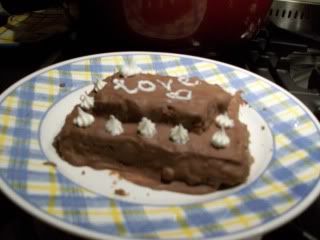 How about a chocolate mousse cake? Although the mousse was really delicious, and the little berries I put into it gave it a bit of a fresh taste as well, it looks horrible! The cakebottom was completely ruined and burned as well. The mousse should've been between two layers of cake, but I tried to leave out as much as I could. Then, to add up to all of it, the cake had to be left in the caketin until the mousse was stiff, somehow this didnt work out well and the edges had a iron-ish taste and colour (!!) which I luckily could scrape off!
Update: I used the mousse in a new recipe! Found here:
Chocolate mousse bombe
. It was just delicious with chocolate, banana and some cream!
I know it looks like a pizza, it has never been one. It was supposed to be 'Sicilian Sfincione'. I guess it does look like on the picture that came with recipe, though mine are slightly burned. It just didnt taste right somewhere!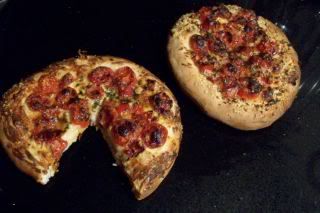 Who doesn't know chelsea buns? And who wouldnt want to make them? I made the mistake of starting baking them around the time when my mom started cooking AND she needed the oven. So I left the buns on the kitchen counter until she was done and we had eaten and cleaned as well. In open air, with no towel or anything damp over it, no clingwrap either. Yeah, I wonder why this didnt work out... They were still pretty delicious to be honest, but very VERY hard and kinda tough to eat!
A cherry bread I tried to make for my lover. It was a disaster! Just look at it! It didnt taste nice at all, and it was very hard as well. As hard as a rock, really! With nothing good about it, we just tossed this one away. I never mentioned it to him!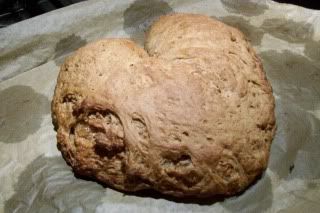 This marshmallowcake with jelly and jam wasn't that much of a disaster. It tasted delicious and everyone loved it! It's just that the jelly wasnt much of jelly, more like water. For this pictures I tried drying a lot of it and scraping some off, but can you see how it's dripping of the marshmallowbottom?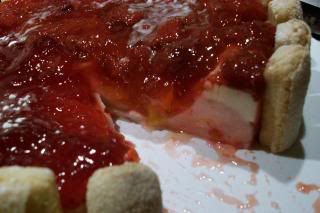 Fridge cake! I just loved the sound of it and the picture looked really nice. I wonder if they're photoshopped a lot now. I might've used a wrong kind of chocolate for this. Just biscuits and glacé cherries with chocolate wasnt actually at all spectacular. Won't make this one again that's for sure! It's a waste of chocolate, and way too many calories into something you dont actually like.
Anyway, I hope you enjoyed my disasters! For most I know what the problem is, so I can avoid it next time!
While going through all my pictures again, I realised I am far behind with posting on my blog. I have loads of things that I really want to share, and never posted yet! So, I'll make sure to update loads soon!