This recipe turned out real easy and very cute! I loved it! Too bad it was a bit small. It was gone in no time! I bought a new book recently. It's about cake decorating and has a lot of recipes for cakes. I really want to learn more about cake-decorating. I'm starting to see that for some things like working with fondant, I'll probably need more tools. A course would probably a better and faster day of learning the techniques for it.
You can easily substitue the jam with any other jam or cream, nutella, peanutbutter etc.. Anything spreadable! And sweet, wouldn't suggest marmite (the horror!).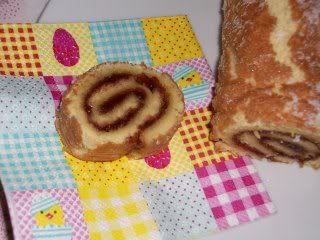 Ingredients:
3 medium to large eggs
1/2 cup (115 gram) white caster sugar
1/4 cup (75 gram) plain flour
1 tablespoon (15 ml) boiling water
Strawberry jam
1. Start off greasing a swiss rol- or brownietin or lining it with greaseproof paper. The tin should be about 30 by 20 cm.
2. Slightly beat the eggs in a large bowl. You can do this with an electric mixer for just a few seconds, to break the egg yolks. Add the sugar and mix again. This part can take a while; I think about 10 minutes. Beat the eggs until the mixture is thick and pale, and it leaves a trace in the batter when you lift the mixer. If it falls back almost immediately, you'll have to mix a bit longer!
3. Sift the flour over the batter and fold it in, followed by the boiling water.
4. Pour the batter into the tin and leave it in a preheated oven of 200 degrees Celsius (400 degrees Fahrenheit) for about 8 to 12 minutes or when a fork comes out dry.
5. While the cake is cooling, prepare a bit of workspace. Use greaseproofpaper as underground, or just a clean underground. Sprinkle it with a bit of caster sugar.
6. Drop the cake out on the caster sugar and trim off the edges. Spread the cake with jam (not too thick, or it'll drip out of the cake later) and roll it up. Hold the cake in position for a few moment and test if it stays. Leave it to cool further.
7. I added a bit more caster sugar over it, for decoration, but dripped icings work well too. After decorating, it's ready to serve and eat!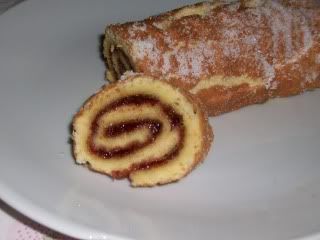 What do you think, have my photoskills improved a bit?
Too bad the cake got some cracks when I rolled it up. Perhaps this was because my cake had actually cooled a lot before I rolled it up. Stayed in place immediately though! This was actually also the reason I didn't use a cream with little peachbits in it. I had planned on doing that, but let the cake cool, then read I should roll it up warm, so hastedly but strawberry jam on it. Absolutely not a mistake though! If I were to use cream next time, I'll have to do it beforehand. I usually take a bit longer with these things, and the 10 minutes bakingtime the cake has is not going to be enough, I think.
How do you like my easter themed napkins? Cute huh??
I'm thinking of trying this roll out with cream, maybe a few of these in different colours? The recipe for the cake itsself is very basic and can also be used for simple layered cakes. Decorate it with fondant or icing and done!