It's been a while since I've posted anything, but that doesnt mean I haven't been baking! I've done and made quite a lot in the meanwhile, even some nice stuff for easter! Anyway, this was even before that! I really have been slacking, but I'll try to catch up again.
Some time ago I was ordered to make some treats for the guests my parent's would have that night. I didn't have anything planned, so why not? Everyones loves chocolate, everyone loves brownies and time to try out a cream I thought would be nice. Perfect timing for another creation!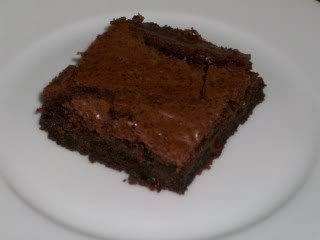 Ingredients (classic brownies):


100 gram (dark) chocolate
125 gram unsalted butter, softened
275 gram sugar
1 teaspoon vanilla essence
2 large eggs
85 gram flour
2 tablespoons cacao powder
75 gram chocolate chips
1. Double-boil the chocolate in a small pan and when all is melted, leave it to cool.
2. In a seperate bowl, mix the butter until soft and fluffy. This doesn't take long (we're thinking less than a minute).
3. Add the sugar to the butter and mix again. I always like to do this in a few additions, but it's not needed. Add the vanilla essence as well and mix again.
4. Beat the eggs lightly in a small bowl and add it to the buttermixture in a few additions, mixing well between each addition. Then add the chocolate mixture in a few additions and mix this, again!
5. Sift the flour with the cacao powder and add it to the butter-chocolate mixture. This is also the time to add your chocolate chips or nuts, cranberries or anything else you want to add.
6. Poor the batter in a greased or greaseproof paper-lined brownietin and leave it in a pre-heated over of 180 degrees Celcius or 350 degrees Fahrenheit for about 20-25 minutes.
7. Voila! You've just made yourself some brownies that'll be delicious to eat warm as well as cold and will fit about any occasion!!
Personally, I've had better brownies. These still have a soft inside, that I think is just too soft. Then again, I got a lot of compliments about it, so I guess it was a succes anyway! Of course I can't leave out the icing I put on top! So here's the recipe for that!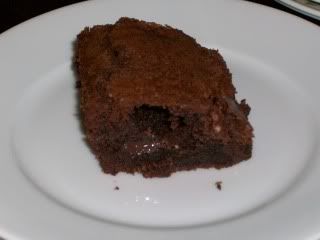 Ingrdients (coconut butter icing):


6 tablespoons butter, softened
2 cups icing sugar
1 teaspoon coconut essence (or any other)
2 teaspoons milk

1. Start of with mixing the butter untill it is soft and fluffy. Then sift the icing sugar and add it in a few additions.
2. Then add the essence and the milk and mix again. Ready!
Now it's time to spread it over the brownies, and sprinkle some coconut pieces on it, or anything else you want of course! Cooking is all about being creative!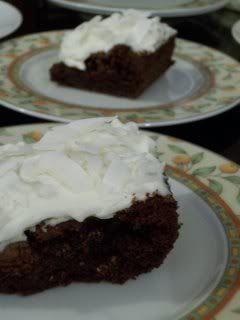 I didnt bother with levelling the brownies first, before putting the icing on. That's something I should do next time. I don't think I even realised I could do that, and it would look a whole lot better that way. So, here's a tip for you:
With a skewed knife, cut off all the parts sticking up from the top so the top has an equal surface. Then turn the brownies around, and use the bottom as your top to spread the icing over.
I tried it with a different cake today, and it worked really well! I'll post that recipe up soon as well! It's a
Sacher Torte with Meringue Frosting and a chocolate swirl
! Sounds good huh?