Eggcakes would be the very literal translation. If I ever come across a better word for it, you'll be the first to know. I do know that there isn't really anything like it in English. Having that said, even this recipe is nothing like the thing you'll find in Dutch supermarkets. The ones you find in supermarkets are super big, fluffy and don't dry out easily. This recipe, when baked slightly too long or when not eaten the same day will dry out into biscuits. Mind you, they won't be bad biscuits. They're actually very tasty, but they won't be what we originally had in mind when baking.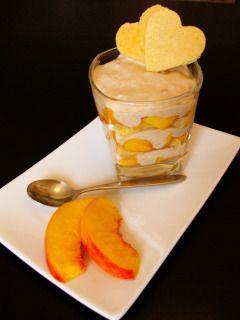 I really wanted to make a trifle so I decided I needed these for in between the peach and cream. I have made a
Peach Trifle
before, in which I used eierkoeken from the supermarket. This time the trifle I made turned out completely different.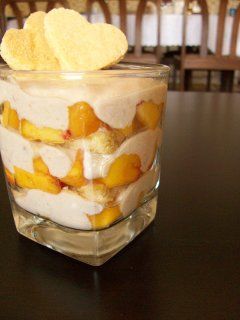 Ingredients:
3 eggs
150 grams sugar
1 bag vanilla sugar (7 grams)
150 grams self-raising flour
30 grams maïzena
1. Separate the eggs and whisk the egg whites until fluffy.
2. Add both sugars to the egg yolks and whisk until the mixture becomes creamy.
3. Add both egg mixtures and mix again.
4. Sift the self-raising flour and maïzena over the egg-batter and mix again.
5. Preheat the oven to 150 degrees Celsius or 300 degrees Fahrenheit. Line an oven tray with greaseproof paper and spoon the batter onto the tray in circles the size of your fist (but then flat, actually, just think of the palm of your hand).
6. Leave the "cookies" in the oven for about 20 minutes until the edges become brown and the middle is fluffy.
Don't worry if the eierkoeken don't turn out soft and fluffy. I've tried different recipes for these cakes and they all have the same flaw.
So then I made the trifle, which was really nothing more than layering the cookies we just made with slices of fresh peach and a home-made cream. Home-made cream sounds nice doesn't it? It really wasn't more than mashed bananas with a bit of peach puree I had left from making peach lemonade. I also added a bit of Philadelphia cream cheese. I think I stopped there, but I felt like proper scientist making this cream (a little bit of this, and a little bit of that, oh! Some more of this one too..). And then it was time to stack. I tried to do it really nicely as these pictures were the first in which I tested my camera settings and several lighting options. Say, they didn't turn out too bad right?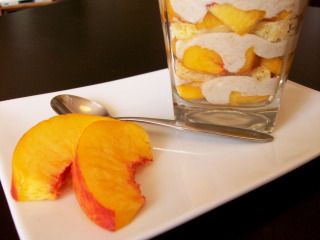 Maybe you noticed, but I also tried to photoshop two of the four pictures. Can you tell which ones? I really hope my peach doesn't look chemical now! There's really so much for me to learn.