I realised my recipe sidebar is getting awfully long, so I'm thinking of changing my blog around a bit again. I wanted a new title-picture for a while now, just be, you know, new. Plus if I'm very honest the blue and purple text doesn't really match the rest of the blog now does it? So at some point I'll have to be working on that again and on making a proper index, which would be a very nice thing to have as well. But for now: a new recipe!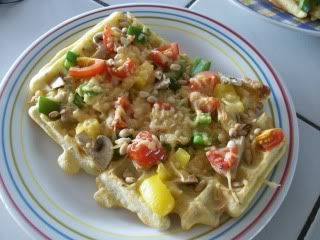 My sweet sister bought me a book about cupcakes, but unfortunately I already had it. So we went out together to get something different. It was pretty hard to find a book on cooking or baking that I wanted. All the books there were kind of basic: about chocolate, cakes, cupcakes, muffins, French cooking, Italian cooking etc.. Admittedly I have least one of each, but there was one little book that I didn't have yet: a book about waffles. I didn't have anything like it yet, and come to think of it, I don't know about you, but we grow up with waffles here! It's kind of a disgrace to have cooking books about Italian, Portuguese, French, Singaporean, Japanese etc. cooking and not have one about something that I consider Dutch (regardless of whether it is really Dutch – I don't know)!
But since I already know how to make normal waffles, I decided to go with something non-sweet and different. Pizza waffles! They really taste as good as they sound. It's like making pizza yourself only waffles batter is al lot easier to make and get right than pizza dough. Putting your own vegetables and cheese on is really fun too, which makes them perfect for parties, kids or when you're with a lot of friends.
There's a few things I should do differently next time though, like add WAY more cheese and then I'm not talking about just double but maybe four times the amount I used. Also, I should spice the waffles up more. I think it's since I didn't use any tomato sauce, or because I didn't use much seasoning in and on the waffles in the first place that they tasted a bit plain sometimes. I could try cooking toppings like mushrooms beforehand to shorten the time in the oven. And as always, I have to start earlier. We might've ended up eating around 7 o'clock or so. For people who normally eat between 5 and 6 that's a bit late that is!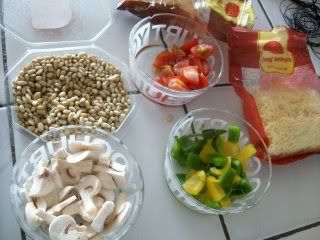 Ingredients:
1 package dried yeast (7 grams)
1 teaspoon sugar
0,1 litre + 0,25 litre lukewarm water
300 grams flour
2 eggs
75 ml olive oil
1 teaspoon dried oregano
1 teaspoon dried parsley
Salt & pepper
Toppings like: pine nuts, (cherry) tomatoes, mushrooms, paprika, garlic, ham, bacon, salami, pineapple
Cheese (loads of it and grated!)
1. Mix the yeast, sugar and 0,1 litre lukewarm water in a measuring cup of at least 1 litre. Make sure the water is not too hot! Leave this for 15 minutes in a warm place.
2. Sift the flour into a bowl. Add the yeast-mixture, the eggs, the oil and the remaining 0,25 litre water to the flour and mix.
3. Add the dried herbs, salt and pepper as well and mix again. At this point you can mix in any other dried seasoning.
4. Leave the mixture in a warm place for another 30 minutes.
5. Warm the waffle iron up and use butter or oil to grease it. If you don't have any you can use a pan and make pancakes.
6. With a soup spoon add the batter spoon by spoon and make waffle after waffle until you've used all the batter up.
7. Line the waffles on a baking sheet in an oven tray and start adding whatever topping you like with loads of cheese (not liking cheese is not an option as you can see).
8. Preheat the oven to 180 degrees Celsius or 350 degrees Fahrenheit and bake the waffles for about 10 minutes until the cheese has melted.
Although the recipe is really easy, it might still take a while with all the waiting times for the yeast. I'm not even quite sure why yeast is used in this recipe, but perhaps all the other options will make it end up to dry or too sweet.
One of the things I love about this recipe is that it leaves you with endless variations. For instance, you could chop pine nuts, sun-dried tomatoes and olives and add them in step 5, which definitely will give the waffles more taste. Also you can endlessly variate the topping, starting with fish or meat (which might need to be prepared beforehand) to a whole series of vegetables, fruits, nuts, cheeses and whatnot. I'm currently thinking of giving the waffles a lot more taste by using more herbs, sun-dried tomatoes and pine nuts in the batter (added at step 5) and then for the topping using just a bit of salt, pepper and mozzarella. Then add a bit of basil on top of it. Sounds perfect doesn't it?