Now I've finally posted another cake I made for my grandmother's birthday, but I still haven't mentioned the last one. I've made a
Chocolate cherry ckae with fudge frosting
. I've made a
Lemon & cream filled cake
. Last but not least: here comes my secret recipe cake! It's really just a rich fruit cake with whiskey, but it's still my secret recipe because I'm so proud of it and love it! (And it's nice to have a secret recipe.) I could eat that cake all day really!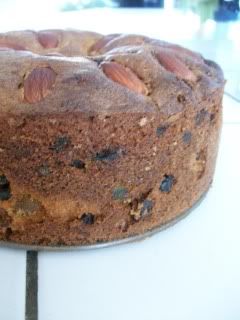 Unfortunately this time, for some reason, the middle collapsed. As you can see on the pictures the almond in the middle was probably lower than half of the cake for some reason!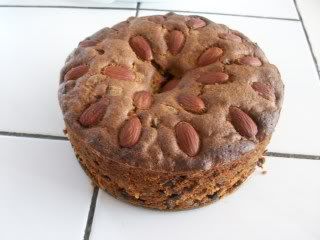 Well, as I just wanted to post the pictures and don't actually have much to say, this post ends here! Is this the shortest post I've ever made? Or at least the one with the least writing in it?
If you think you can beat me and my cake please do tell! In the meanwhile enjoy some pictures of this cake made a while ago: