Sometimes you come up with something nice you want to make, but can't decide on how exactly. Then someone gives you a brilliant idea, another someone comes up with something more brilliant and suddenly you're set off to make cookies after a movie you've seen. Sounds familiar? It doesn't to me, except that just this once, that's what actually happened.
It started with just wanting to bake, then finding a recipe for cookies that I liked. Then finding these
cute turtles
, and wanting to make something cute too. Mix in a crazy person that watched the movie 'The Legend of the Guardians' with you and was smart enough to make the link, and sudenly you get this fireworks of ideas on how to make owl-shaped cookies.
Then you start making it, and notice it's a pain in the ass and takes quite some screw-ups and practicing before you can even make anything decent. You fail. End of story!
That doesn't mean the cookies didn't taste nice and some of them miraculously didn't end up looking like owls anyway, or that I'm not going to share the recipe!
Ingredients:
180 gram butter (softened)
185 gram sugar
50 gram dark chocolate
50 gram milk chocolate
2 spoons cacao
4 spoons milk
1/4 spoon vanilla extract
270 grams flour
3/4 teaspoon baking powder
1. Mix the butter and sugar together with an electric mixer. When thoroughly mixed, devide into three equal portions over three seperate bowls. (You can also weigh 1/3 of the butter and sugar and mix three times.)
2. Melt the dark chocolate with 2 spoons milk in the microwave. Do the same with the milk chocolate and 2 spoons milk, in a seperate bowl.
3. Poor the melted dark chocolate into one of the butter-mixtures. Add a spoon of cacao and mix everything in.
4. Poor the melted milk chocolate into a different portion of butter-mixture and add a spoon of cacao. Mix this as well.
5. Use the 1/4 spoon of vanilla extract in the last portion of butter-mixture and mix.
6. Use 90 grams flour and 1/4 teaspoon baking powder in each portion. Make sure to sift when needed. Mix every portion again. (While making sure you dont get any of the dark chocolate portion into the white or milk chocolate portion. Try to keep it seperated.) All the portions should be kneadable by now. If not add more flour.
7. Take a hand of the white portion and roll it into a cylinder/tube-shape. Make another, smaller, tube of the milk chocolate portion. Place them against eachother.
8. Now take a bit of the dark chocolate portion and roll it into a tube as well. Flatten it until you feel you have the right length/height for the wings. Then place it against the white portion, while making sure you dont go on or over the milk chocolate portion.
9. Roll everything gently. Just make sure everything sticks together and gets the shape you want, don't overdo the rolling!
10. Cut slices off your roll and place them onto a baking sheet. It should look a bit like an owl. Keep practicing if it doesnt (getting mine to look reasonable took forever!).
11. When you've used up all three mixtures, preheat the oven to 180 degrees Celsius (350 degrees Fahrenheit). Leave the cookies in for about 8-15 minutes and done!
12. Almost forgot the decoration! Use chocolate, or foodpens to draw eyes, beak and feathers on!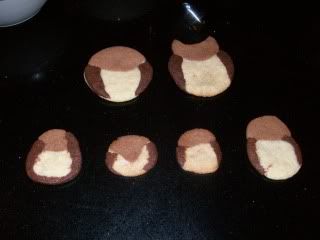 My owl evolution: first fail -> second fail -> third attempt -> last attempt
You can variate the three portions by not using chocolate, but leaving everything white and using foodcolouring to get three different colours. Or make extra and colour them to all colours of the rainbow and make some sort of rainbow twist cookies. If it's sort of roll-able you can do it!
Personally I never really like cookies since I think they're so dry. My grandma however loved these and kept eating them every time we were and weren't looking. Next time I'm making them more simple though. Making owls was a fun challenge, but I want them to look a bit better next time! Plus, I think rainbowcolours sounds awesome.
Enjoy!