So Christmas has passed, finally the busy days are over. And I find myself in the middle of exams. So maybe those busy days aren't actually over yet, but I'm nevertheless going to take my time writing a bit for my blog. I haven't written anything in over a month! First time ever I've skipped a month, but especially since Christmas I have a lot of catching up to do. Let's start with something non-christmas dinner like! We don't do any Christmas presents here in The Netherlands, but I still got a very sweet Muffin Magic book from an even sweeter person! I decided on one of the savoury muffins, since I've always liked the idea of making something more savoury. I had an idea of spinach and cheese muffins, but a recipe for bacon, cheese and unions sounded just as great! So here goes!
Sorry about the bad lighting/awful pictures, but it was christmas, and busy and I wasn't so fussed about how this turned out!
Ingredients:
1 tablespoon sunflower oil
75 grams bacon lardons
1 smalll union
1 big tablespoon yoghurt
milk
150 grams plain flour
1 1/2 teaspoon baking powder
1/4 teaspoon salt
15 grams grated Parmesan cheese
40 grams Cheddar or any strong cheese
1 large egg
50 grams unsalted butter
1. Start off with measuring the bacon and putting it in a pan with the sunflower oil. Put the pan on a medium to high fire, just make sure you dont burn anything.
2. In the meanwhile start chopping the union into fine bits and fry them with the bacon. Once everything has browned, leave it aside to cool.
3. Put the big spoon of yoghurt, or two, into a measuring cup and add enough milk to measure up to 100 ml.
4. Sift the flower into a bowl with the baking powder and salt. Add the cheese to it, but leave some of the Cheddar aside (to sprinkle on top later on).
5. In a small bowl beat the egg slightly and in another one melt the butter. Then comes the mixing! Make a well into the centre of the bowl with flower and add the yoghurt and milk, the egg and the melted butter and mix. Fold in the bacon and union when everything is thoroughly mixed.
6. Preheat the oven 190 degrees Celsius or 375 degrees Fahrenheit. Place muffin cases in a muffin tray and fill each for about 3/4. Sprinkle the rest of the Cheddar over them. Once the oven is preheated put them in the oven for about 15-25 minutes or until they are golden brown. And done!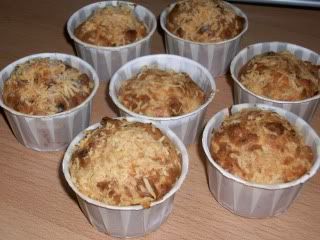 I probably always forget to say but this makes about 6-7 muffins or 12-15 mini muffins. And they're really nice with ketchup actually. Don't ask how I found this out, weird people give you weird ideas. Hopefully I'll get to make some muffins with spinach soon, or quiches, but perhaps my next muffins will just be sweet. I'd love to make blue berry muffins, never made that! Crime! But probably next up will be Cranberry Jam (...and jelly (...and sauce too)), because I treated myself to a handy book about food preservation!
So back to studying it is then! Until I decide I can no longer deal with the minds of other, or statistics for now, and I escape into my blog again!