When my mom comes up with "Let's go shopping with the whole family!" I can only think of horror-scenario's. Shopping with a bunch of women means every ile will take at least an hour to get through and every single thing on every single shelf will be looked at, picked up, considered and probably put back – or in the worst case BOUGHT. I have nothing against buying things, but when my family thinks it needs scrapbookstickers when none of us like to do the whole scrapbooking thing, it makes me want to kill things. But most of these everything-and-nothing shops have a book section, so this is where you'd find me. While my sisters came home with bags full of clothes, perfumes, make-up, paintings and other nicknack I got a book called "Soups". It's got soups in it alright! From the one I'm writing on now, to fruitsoups, unionsoup, mushroomsoup, spinachsoup, breadsoup with tomatoes till things like almondsoup, garlicsoup and cold yoghurtsoup. Trying some of these will be quite an adventure.
According to the way this leek-soup looks this might've been a sweet idea for Halloween. Too bad I hadn't thought of that. The soup is quite tasty and I really like the coconut cream through it, but don't use too much lemon. I had to throw half my soup away after I added too much lemon and no one liked it anymore. Originally the recipe used lime though, and that might've been why it went terribly wrong with the lemon's my parents had brought home from doing the groceries. But before I destroyed it the soup was 'lush' as some English like to put it. So go easy on the lemon and you might like this soup just as much as I did! Note: if you don't have a whole family to feed you might want to start off with half.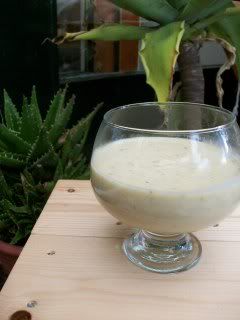 Ingredients:
Splash of olive oil
2 leeks
half a (green) bell pepper
2 potatoes
1 lemon (or 2 limes)
handfull coriander
600 ml vegetable broth
225 ml coconut milk
salt and pepper to taste
1. Start with slicing the leeks into thin slices. Chop the bell pepper in small pieces and the potatoes into little cubes. Grate the peel off the lemon and cut the coriander into smaller pieces. Heat a bit of olive oil in a pan and add the leeks, bell pepper, potatoes and grated lemon. Cook everything for a few minutes
2. In the meanwhile cook the broth in a pan. Add the leek/bell pepper/potatoes/lemon peel to the broth and bring it to boil. Lower the heat a bit when it boils and leave the soup to simmer until the potatoes are ready.
3. Take the soup off the fire and leave it to cool for a bit while you get out a food processor. Poor the soup in the food processor and 'process' it till you have a thick soup without any large lumps. Then poor everything back into the pan.
4. Time to put the soup on the fire again! This time add the coconut milk and the lemon juice (easy easy!!) until you like the taste. Mix everything in well and make sure the soup doesnt start boiling again.
5. Done! You can eat this soup either warm or cold and serve some lovely
crackers
with or use it as a starter for your Christmas dinner.
That reminds me I have to set up a menu for Christmas. I want to cook a lot and make some things nicely in theme (Im thinking of making green and red bread)! So that's another thing I need to look into. Currently still trying to figure out how Im going to study abroad and what I need. Wonder if I'll have a kitchen sufficient enough to do some baking...