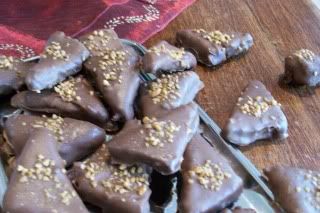 To start off with the name - yes, I just couldn't think of anything better! If I would translate the name it said in my recipe book it would become crispies and that just wasn't going to be right. So the recipe now has a boring name! :D Doesn't affect the way they taste though!
The last few weeks I've been looking into pralines, or other little confectionery, a lot and sometimes you just find recipes you HAVE TO try! This was one of those. I really love the taste of nougatine and when I saw the pictures of these little chocolates I think I melted myself. It's a good thing I tried them, because they turned out GREAT!
I had some trouble making them as the 'inside' of these chocolates turned out a bit soft. But after I put them in the fridge they were hard enough to work with and the chocolate coating around it prevented them from melting too much after.
(Un)forunately I left them a bit long in the fridge to cool and my father thought they looked nice and ate quite a lot before I ever got to finish them. That reminds me I have to put a little sign "DO NOT TOUCH!" on it next time.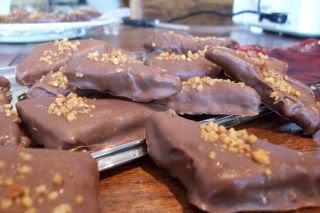 Ingredients:
100 ml cream
100 gram milk chocolate
100 gram dark chocolate
(2 teaspoons of nut or almond liqueur)
200 gram nougatine
150 gram milk chocolate
1. Bring the cream to boil while stirrying constantly.
2. As soon as the cream is boiling take it off of the fire and add a bit of the chocolate. Stir the chocolate in until it's melted and add more chocolate. Add 100 gram milk and dark chocolate like this. Repeat this until all the chocolate is melted and well mixed in.
3. Add the liqueur now, if you want. If you want children to eat it too it's not advisable. I just left it out.
4. Add 150 gram nougatine to the mixture and mix it in well too.
5. Line a brownie tin (or other tin) with plastic wrap and poor the mixture over it. By now the mixture should be cool enough to not melt the plastic wrap. If it's not cool enough leave it to cool for a bit first. Put the tin in the fridge and leave it to cool for about an hour.
6. Take the hardened mixture out of the tin and cut it into triangles.
7. I found it handy to put the triangles back in the tin and in the freezer after this. It makes working with them easier later on. You can also skip this and start dubbelboiling (au bain-marie) the remaining 150 gram chocolate. Keep stirring while the chocolate melts.
8. Take the pan with chocolate off the fire. Use a fork to fully dip the triangles in the chocolate. Put the triangle on a plate covered in plastic wrap. Sprinkle a bit of the remaining nougatine over it. Repeat this until all the triangles are done. (You might have to cover a few more plates in plastic wrap :P)
9. Put the plates in the fridge and leave it until the chocolate has hardened and they're ready to eat!
Depending on what weather it is and where you live - I'd leave the chocolates in the fridge. They tend to melt a bit easy!! But they're defenitely worth it!
Very nice to make for a party too. My mom already orderd some for the coming party!