One of the italian savoury breads. MY mom really loves these breads! And after making this one, I have to say I couldn't really stop eating it myself either. With a bit of cheese on it, it makes a wonderful lunch! Of course you can also use it when you barbecue, eat italian or just random or for any other occasion when you feel like eating this bread.
I can't really comment much on this recipe or the way it went. It was nice to eat. It was a bread-machine recipe, which makes it so much easier and everything all went fine just in the first go!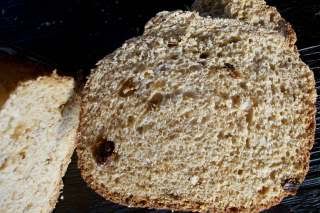 Ingredients:
1/3 cup sun-dried tomatoes (25 gram)
1/2 cup + 1 tablespoon water (130 ml)
1/4 cup + 1 tablespoon milk (70 ml)
1 tablespoon extra virgin olive oil (or any other)
3 cups white bread flour (325 gram)
1/2 cup whole-wheat bread flour (50 gram)
1/2 cup grated Parmesan cheese (40 gram) (or a bit more xP)
1 tablespoon salt
1 tablespoon sugar
3/4 tablespoon dried yeast
1. Put the dun-dried tomatoes in a small bowl and add some water. Leave them to well for about 15 minutes.
2. Chop the tomatoes finely and put them aside. Use the water in the bowl to make the 1/2 cup + 1 tablespoon water you need. Add more water if needed.
3. Pour the water with the milkd and pol in the bread pan.
4. Sift the flour over the breadpan until all the flour is gone and the water is completely covered. Sprinkle over the Parmesan and then the salt and sugar.
5. Make a small well in the middle of the flour and add the yeast. Do not let the yeast touch the water yet.
6. Start the breadmachine in normal setting, small bread, medium crust. If your bread machine makes a sound when you can add anything, then add the sun-dried tomatoes. Otherwise just add the tomatoes during the last 5 minutes of kneading, or when you're unsure, when the dough has already formed a ball and the machine is still kneading.
7. Wait for the bread cycle to end and take the bread out of the pan and put it on a rack to cool.
Tip: Check the dough a few times during the first kneading cycle. You might want to add some more water or flour according to how wet or dry the dough is.
And oh I hate my pictures! I couldnt get the lighting right for this one! It was a bit late in the evening already and the sun was going down and I simply cant wait until the next day to make some pictures of a bread. I want to eat it then! You'll have to bear with me for now! As soon as I have the money and time I want to take a little course on how to make pictures right. But it takes time. It might also take some time finding a place that can teach me that as well actually...