I love brownies and I'm not the only one. Everyone in my family loves brownies and I don't actually know anyone that doesn't! Apart from brownies I like everything that has cranberries in it too, so when I was the recipe I had to try it out. I had to change it a bit because I didn't have all the ingredients which eventually gave it a lemon twist to it. Nevertheless they were very nice and I loved eating them for lunch every time!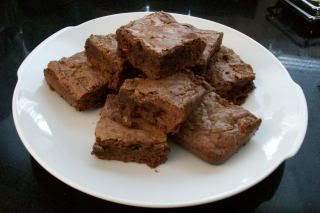 Ingredients:
200 gram dark chocolate
200 gram (unsalted) butter
3 big eggs
175 grams sugar
Grated peel of one lemon
200 gram flour
100 gram cranberries
1. Mix the butter into the chocolate (break into smaller pieces if needed) in a small pan. Double-boil them and stir occasionaly until the mixture is fully melted and well blend.
2. Take the pan off the pan filled with water and leave it to cool.
3. With an electric mixer or whisk beat the eggs until creamy. Add the sugar and lemon peel and mix again until the mixture becomes thick.
4. Add the chocolate-mixture in three additions, mixing well after each one.
5. Sift the flour above the bowl and mix in with an electric mixer or spoon. Do this in a few additions as well.
6. When everything is mixed in properly add the cranberries and mix again.
7. Grease a brownie-tin (or other tin) or line it with grease-proof (/baking) paper. Poor the mixture into the tin. You can also poor the mixture into little cupcake shapes.
8. Bake in a pre-heated oven at about 175 degrees Celsius or 350 degrees Fahrenheit for about 20 minutes or until a food pin or fork comes out almost dry. Leave the brownies to cool before removing from the tray.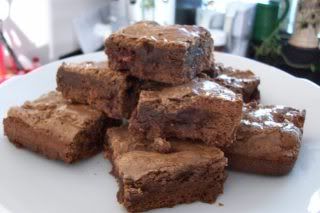 There you have yourself some brownies to last a while (or perhaps not). I really enjoyed these brownies and the recipe was very simple and easy to follow. It didn't take much time in the kitchen and I still had something very nice. The family loved it as well!
I had a bit of mixture left when I filled my tin so I made a few brownie-cupcakes. Those turned out very good as well! though the inside started off a bit wet, after leaving them for about a day they were no different from the "normal" brownies.
All in all another recipe to add to the list! ;)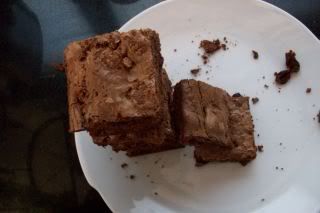 If you don't like them all too much or you just like playing with food, you can always turn them into a brownie-tower! xP