It's been very long since I've posted something on this blog! That is, if you don't count the post I wrote a few minutes ago. That doesn't mean I haven't been busy baking though! It simply means my homework is catching up with me now and I don't have time to write things on my blog. A pitty really, not because of the blog, but because it means I have serious work to do! I never really liked homework all too much..
Back to the baking! When you're busy, but you still want to make something nice: bread machines! They were quite an invention, weren't they? I saw the words "rice bread" in one of my books and couldn't help but try it. It seemed a bit odd. I mean, who puts rice in bread? I did! and it tasted really good too! I liked this bread with chocolate paste a lot! They only thing I ate for the few days after I baked this bread!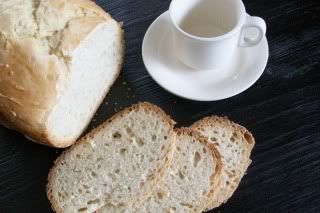 It's very easy to make, but you do have to make rice before you start this recipe. Some left over rice from the dinner the day before will do pretty well. Since we hadn't eaten any rice, I just made some more. Put everything in the bread machine and wait! An easy recipe for busy days!
Ingredients:
¾ cup water (180 ml)
1 egg
3 cups white flour (350 gram)
1 cup cooked (long grain white) rice (115 gram)
1 tablespoon milk powder
1 tablespoon salt
1 ½ teaspoon sugar
1 tablespoon butter
1 teaspoon dried yeast
1. Pour the water in the breadpan and add the egg.
2. Sift the flour over the water, covering up all the water. Add the rice and milk powder.
3. Add the salt, suar and butter in seperate corners of the pan.
4. Make a well in the middle of the flour and add the yeast.
5. Now start the breadmachine at a normal setting, medium curst and press start.
If you still have to cook the rice, here's a tip: Take half a cup of rice and cook it. Don't take a full cup and cook it, like I did! You'll end up with over two cups and you just dont need that much!
We don't have milk powder at home, so I always use the coffee milk powder my parents use. I don't know if it's a good substitute, but the bread still tasted just fine!
I keep wondering why you have to put salt and sugar in different corners of the pan. Does anyone know this? It seems quite odd to me, since they will mix in together anyway!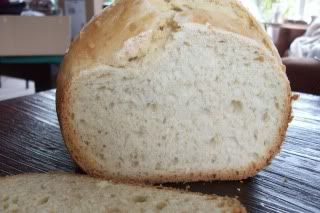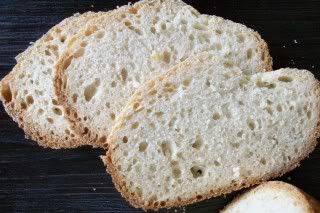 I love the structure of this bread! Really, it turned out great! I wonder where the rice has gone though. You don't really see it back in the bread all too much.
This bread was really easy to cut as well. You know the breads that totally splat under your hands when you try to cut a slice off of it? This bread did NOT have that! I say that's worth a pluspoint already!
A picture with my wonderful breadmachine! I love it! Pretty old, but works just fine!