Note: I wanted to make this recipe myself again when I realised the recipe is faulty. Please refer to a more recent post
Marbled Pound Cake
for a correct recipe. I will update this post as soon as I remember where the recipe is from!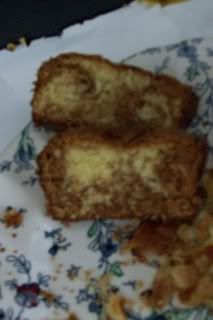 This is one of the few recipes that turned out great right away! Needless to say, this cake was gone in no time! This did mean, however, that I didn't get any time to make some proper pictures of the lovely cake! Something I will have to do the next time, and update this post. For the lovely shawnie and so you don't have to wait to try this recipe, I will share it before updating any pictures.
Its an easy recipe, but it does require a lot of bowls! And cleaning the handmixer every once in a while. I am really glad I have one that's for sure!!
Ingredients:
100 grams milk chocolate
1/2 cup (full cream) milk
1 1/2 cup flour
2 teaspoons baking powder
1/4 teaspoon salt
1/2 cup (unsalted) butter, room temperature
3/4 cup plus 2 tablespoons granulated sugar
3 eggs
1 teaspoon vanilla extract
1. Double-boil (au bain-marie) the chocolate until it has melted. Make sure to stir occasionaly.
2. Take the pan with chocolate off the pan with hot water. Add a 1/4 cup of milk and stir it in. An electric mixer is handy for this. Set the mixture aside.
3. In a sepereate bowl, whisk the flour with the baking powder and salt. Put this aside as well.
4. In another bowl mix the sour cream and other 1/4 cup of milk together. Once again, set aside.
5. Cream the butter and sugar with the electric mixer until the mixture is light and fluffy.
6. Beat the eggs in one at a time. Make sure to mix well after every egg. Once all the eggs are mixed in, add the vanilla extract and mix again.
7. Add a few spoons of flour to the last mixture (with egg and butter). Mix with an electric mixer and then add a bit of the sour cream-mixture and mix again. Keep repeating this till all the flour and sour cream are mixed in.
8. Spoon half of the batter in a seperate bowl and add the chocolate-mixture and fold it in with a spoon.
9. Grease a cake tin (or two, like I needed) or a bread tin and poor in the two mixtures the way you like. It's nice to not do a half-half cake, but have the two batters somewhat swirl together.
10. Pre-heat the oven to 160 degrees Celsius or 320 degrees Fahrenheit. Bake the cake for about 50 minutes or until the cake looks dry and a fork or foodpin comes out dry. Take it out of the oven and leave it to cool. Enjoy your cake!