I made these cute honey buns some time ago, but really have to share them! They weren't what I expected them to be. The sweet taste I imagined was not so much there, but they were still really worth it!
It was one of the first buns I have ever made, so I still have a lot of room to improve this recipe! I want to try making them sweeter, so it's a mission!
But for now I will just share this recipe with you, so you can experiment with it as well!
I made my recipe with plain white flour, but I think it would be exiting to try this recipe with full wheat flour. Another note: I used the bread machine for this one, but you can just kneed it by hand as well.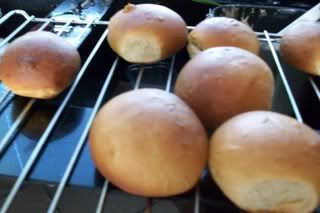 Ingredients:
300 grams bread flour
4 grams or 2/3 teaspoon salt
4 grams or 1 teaspoon instant yeast
1 egg
milk
45 grams honey
25 grams (unsalted) butter
1. Mix the flour, salt and yeast together and put these into the pan of the bread machine.
2. Beat the egg lightly and add enough milk to the beaten egg to make 200 grams.
3. Make a little whole into the flourmixture and poor the milk into it. Start the Dough function on the breadmachine. Wait until the dough forms a smooth dough. Check it after about 5 minutes or so. If the dough is still too wet add a tablespoon of bread flour.
3. Add the butter to it when the dough seems smooth. Let the breadmachine finish the first doughcycle of 20 minutes, then stop it, and start it again for another 10 minutes.
4. Now, to save yourself from kneeding by hand anyway, you will have to check if the dough is dry enough. You can add more flour, but make sure you add more yeast as well then.
5. Now take the dough out of the pan kneed it for a bit to feel if it is right and shape it into a bit round ball. Then place it in a lightly greased bowl and cover it with a (damp) cloth/towel or cling wrap. Let it rise in a warm place for about 60 - 90 minutes. It should be about double the volume.
6. Flour a working surface and remove the dough from the bowl. Lightly kneed it to press the air out. Then divide the dough into 9 equal portions (more or less if you want smaller or bigger buns) and shape them into little rounds.
7. Cover the buns with cling wrap or a towel, but make sure it can still breathe and the towel doesn't stick to the buns. Let it rest for about 10 minutes in a warm place.
8. Take each little dough ball and kneed them on a floured surface to press the air out. Then shape them into nice round balls. Do this by folding them inwards and then rolling and pressing them onto the worksurface. Place them seams side down on a greased (or bakingpaper-lined) baking tray. Leave them for 45 - 60 minutes covered loosely with cling wrap or towel.
9. Brush the top of the buns with a bit of milk (this is mostly to make them nice in colour and shiney). Bake them for 15-20 minutes in a preheated oven or until they are dry and goldenbrown in colour. If it brown too quickly you might want to cover it with aluminium foil.
10. Remove from the oven and let them cool on a wire rack.
Now you should have some lovely little buns! Ready to put whatever you want on them!