Nothing is better for cooling down in summer than ice cream. And no ice cream is better than lemon sorbet. During the hot days this ice cream will definitely cool you down and make you feel better. The slightly tangy taste of yogurt makes the yogurt ice cream very refreshing as well. So here I present to you two perfect summer ice creams!
I served them to my family on my birthday party and I got compliments from everyone. Somehow I always do when I bake for family, but not always from EVERYone and I don't get asked where I got the ice cream machine, how it works and if my uncle should buy it too, because he's seriously thinking about it. I've looked ice cream machines up, and they're about 40 euros max., so if you eat a lot of ice cream and would definitely prefer home-made ice cream (who wouldn't?) AND you have space in your house, then I definitely wouldn't hesitate.
The only thing I hated about this recipe was making pictures. I don't have an ice cream scoop so I couldn't make perfectly shaped balls. Then I put them in a bowl and realized they were melting. MELTING! How can someone make nice pictures when they've got only a minute or two to make them?
Lemon Sorbet Ice Cream
It's like lemonade only then the ice cold edible version. It has real zest in it, but feel free to leave that out. You could also leave out the sugar for a sugar-free version (use 450 ml water instead), but it could get very tangy then. I don't really know what to say about this ice cream. It's lovely. It's Lemon Sorbet.
Do keep in mind that this ice cream is made using an ice cream maker. If you don't have the machine to do it you'd get a different texture for sure. You can still use the same recipe, but I'd advice to leave out the egg white. You'd have to leave it in the freezer and come back every 15-30 minutes to mix it a bit like granita. I haven't tried this, but it could work. Also, you can just as easily use this recipe to make ice cream Popsicles. You wouldn't have to mix it every half hour. I'd still leave out the egg white, since this floats on top originally and gets incorporated through the mixing process.
Ingredients:
Juice of 1/2 an orange
250 ml lemon juice (4-5 lemons)
Zest of 1 lemon
250 ml water
275 grams sugar
1 egg white
1. Put the water and sugar in a pan and dissolve the sugar on medium heat. Bring to boil and leave for about one minute and then leave to cool.
2. Juice the orange and the lemons and mix them together with the cooled syrup.
3. Beat the egg white till it becomes fluffy but do NOT let it become stiff.
4. Whisk all the ingredients together and leave in an ice cream maker for about 30 minutes.
5. Put the ice cream into a box and leave in the freezer for an additional hour or so, especially on hot summer days.
Yoghurt Ice Cream
Yogurt Ice cream gives a perfectly white colour, which actually surprised me when I looked at it. Then again, it's not surprising yogurt ice cream ends up white. It's slighly tangy from the yogurt, but just enough sweet to not be annoying. A lot of people thought this was vanilla ice cream, but I don't taste the vanilla at all. I guess that just means everyone likes it.
Keep in mind that this recipe is also made with an ice cream maker. If you don't have the machine the texture would be completely different. I imagine you'd have to put it in the freezer and come back every half hour to fifteen minutes or so to mix it. I'm not sure if this works and haven't tried it!
Ingredients:
350 grams thick (Greek) yogurt
200 ml milk
125 grams sugar
150 ml whipping cream
15 grams vanilla sugar
1. Beat the whipping cream with the sugars together until it gets thick. Do NOT let it become stiff. A thick runny texture will do.
2. Mix the yogurt with the milk.
3. Beat the whipping cream mixture while you pour in the yogurt mixture, or mix them in several additions.
4. Pour into an ice cream maker and leave for about 30 minutes.
5. Put the ice cream into a box and leave in the freezer for an additional hour or so, especially on hot summer days.
And tadaa! You've just made two delicious ice creams! Scoop them into balls and put them on a cone, or serve them in a bowl. Serve them with hot chocolate or strawberry sauce or add a little cookie. I don't mind how you eat it, I assure you'll love it any way! Enjoy!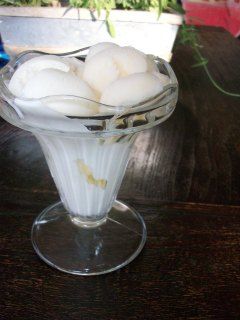 It's melting! - try making pictures of ice cream. It's simply not done.