Because that's what it is. It's chocolate cake with peanuts in it and a gooey filling that is just HEAVEN especially when you eat it warm! I'm going to have to make this recipe again if it were only for the snicker filling. The gooey filling was also long gone before the cake was ever finished. I suspect my mom. She's dieting and you know how people are when they start dieting!
But I'm glad she loved it, and so did the rest of the family. Apparently I'm even making snickers especially for my grandpa for his 50 years of marriage!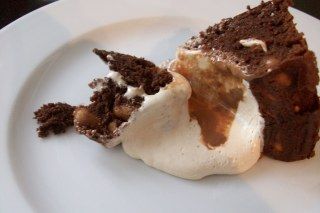 Chocolate cake with peanuts
Ingredients:
5 eggs
175 grams caster sugar
50 grams flour
50 grams cacao powder
75 grams butter
1/4 cup peanuts
Gooey filling
Ingredients:
30 grams butter
100 grams sugar
2 tablespoons milk
3/4 cups marshmallow fluff
2 tablespoons peanut butter
1 teaspoon vanilla extract
1. Whisk the eggs and sugar until thick and pale.
2. Sift the flour and cacao powder together and add it to the egg-mixture. Gently fold the wet and dry ingredients together.
3. Melt the butter and fold this together with the peanuts into the mixture as well.
4. Preheat the oven to 180 degrees Celsius or 350 degrees Fahrenheit. Grease a cake tin and pour the batter into the tin. Leave the cake in the oven for about 30 minutes or until a skewer comes out dry. When done, leave to cool.
5. Melt the butter in a pan and add the sugar and milk. Keep stirring until dissolved and leave to cook for a few minutes.
6. Add the marshmallow fluff, peanut butter and vanilla extract and stir until smooth.
7. Pour the gooey filling over the chocolate cake and eat straight away!
You can also leave the filling to cool a bit so it becomes spreadable, perhaps giving a nice effect. My cake had a well in the middle so it could easily keep the filling in one place, but when it's warm it does tend to drip a lot. I'm thinking of using the same idea again and instead of using only half of my heart filling cake pan use the lot of it. I'd fill the heart with the gooey filling and cover the cake in chocolate ganache and sprinkle chopped nuts over it. Perhaps in between too. It'll be lovely! It could actually be a way better idea than making snickers for my grandpa. Maybe just make both to be sure. Maybe I should make loads and keep some myself then too. What do you think?