Before I was smart enough to buy small cans of tuna, I had these massive large cans that I needed to use for two or three consecutive days. I quite like tuna, but at some point your imagination is running dry and you kind of end up making the same things over and over again. So apart from dumping tuna in noodle soup or making
Tuna salad
like in one of my older posts, here are two other suggestions: Tuna melt and Tuna pasta salad.
Tuna melt
Ingredients:
Bun
Cream cheese
1/2 can tuna (in oil)
1 tablespoon mayonnaise
A few chives
1/2 Italian salad mix (3 types of lettuce, onions and cherry tomatoes)
Salt & pepper
Cheese
1. Start with cutting the bun in half or take one slice of bread. Spread with the cream cheese.
2. In a small bowl add the tuna with mayonnaise, chives and some salt & pepper to make a tuna salad. Add garlic and herbs if desired.
3. Put some lettuce on the bun (or add this later if you dislike lettuce that's been in the oven). And spread the tuna salad over the bun with cream cheese. Add anything else you like as well, like tomatoes, paprika or onions.
4. Add slices or grated cheese on top and season with more salt & pepper if you want (just don't overdo it, remember you can always do this later as well).
5. Put another slice of bread or the other half of the bun on top and pop it into the oven at 180 degrees Celsius or 350 degrees Fahrenheit for about 5-10 minutes when you see the cheese has melted. Tadaa! Bon appétit!
I've made 'tuna melt' quite a few times before, however I like to call it tuna panini's because panini's are definitely my favorite buns to make this with. I also put them in a grill/tosti-machine instead., but essentially it's all the same and it always tastes different! I like to add or leave out different things every time and just try to work with what I've got.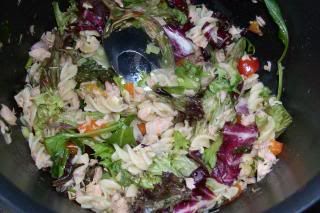 Tuna pasta salad
Ingredients:
Pasta
1/2 Italian salad mix (3 types of lettuce, onions and cherry tomatoes)
1/2 can tuna (in oil)
1/2 paprika
A few chives
Spoon olive oil
Salt & pepper
1. Cook the pasta until it's done, drain the water and set aside to cool.
2. Cut, slice, chop, wash and drain from olive oil: the tuna, the salad mix and the paprika and mix together.
3. Add the pasta and mix again and season with olive oil, salt & pepper to taste!
For another version of this: leave out the lettuce and add a bit of cucumber, yogurt and mayonnaise. It was my hybrid version of of this tuna pasta salad and
tuna salad
I posted before. It was delicious!
For this salad I bought a salad mix because buying 1 lettuce was as expensive as the whole salad mix and I didn't want to pay too much for tomatoes and lettuce (which is all I wanted), because they don't last long and I don't really eat them enough. While typing this I realized I completely forgot the corn. I thought it would be really nice to add corn as well, but I obviously missed that now! For next time!
I hope you liked it! Enjoy!