Halloweens already far behind us and everyone is probably busy with Christmas, but even so I´d like to share this recipe I made around Halloween which also makes a perfect starter for your Christmas dinner. I present you this lovely creamy pumpkin soup!
Note: try searching pumpkin soup in google and you'll find a million varieties. I found quite a few recipes and decided this is the most basic version that you see in every sort of pumpkin soup. Feel free to use google and add a lot of extra ingredients to make this pumpkin soup more special!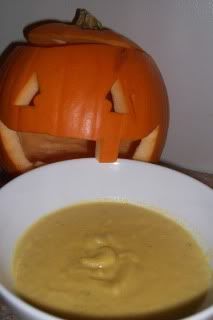 Ingredients:
2 cups pumpkin flesh
1/2 union
1 cup vegetable (or chicken) stock
3-5 spoons heavy whipping cream
salt & pepper

Optional:
1 clove garlic
herbs
1. Start with turning the pumpkin flesh into pumpkin purree. You do this by cooking the pumpkin in a pan. Keep stirring, while making sure the pumpkin doesn't burn. Natural liquids should come out at this point, if not and you feel the mixture is too thick or burns easily, add water or stock.
2. Once you have the pumpkin purree, add the onion, stock and any other ingredients you like.
3. Add the cream at the very last moment and serve immediately.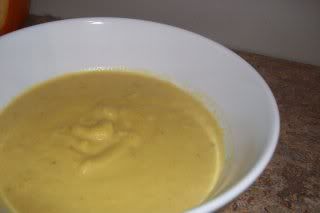 I love the way this soup is so very creamy. The soup was a tad salty from the stock, very creamy and had the unique taste of pumpkin. It´s a pity you won´t be able to make this soup all year round and we definitely don´t sell them a lot in Holland in the first place. I´m definitely going to try making this more often, perhaps adding more ingredients to see what effect it has. Although I have the feeling, that this soup, however plain it may seem, is already a very nice mix of flavours that really doesn´t need improvement.