I've seen some really beautiful pictures of macarons and really wanted to make them myself. Especially since macarons seem to come in so many different kinds, tasted and even shapes. There's an infinite number of colours and tastes that can be combined and being able to make them seems to give a lot of space for your own imagination. Plus they look delicious too. There's only one problem I've encounter so far, which apart from finding a good recipe is that it consists out of the almonds. I've tried making macarons twice. The first time had completely failed. I over-baked them and they were too dry and burned afterwards, but nevertheless good enough for a cake bottom that next day. Another problem then was the ground almonds. I just chopped them in my mixer, but at some point the little bits didn't seem to get any smaller. The second time, I had almond powder. The problem here was, it was made for drinks and contained more sugar than actual almonds. I just wildly guessed a combination of powdered sugar and my almond powder to make something that looked like macarons and my sister quite liked it. She said it was way better than the stuff we got from the shops, but I can't recall ever tasting macarons. I should really get some somewhere I think. Try out a few different tastes and see if I can get any farther then. Until then, we're going to have to do with this recipe!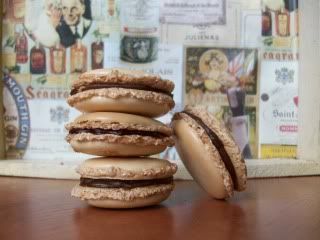 Ingredients:
45 gram eggs (aged for at least 24 hours)
granulated sugar (no more than 50 grams)
100 grams almond powder
50 grams powdered sugar
1. Whip the eggs with an electric mixer until it's foamy. Add one spoon of granulated sugar at a time until the mixture is thick, white and creamy like a meringue mixture.
2. Sift the almond powder and powdered sugar together and fold into the egg & sugar – mixture.
3. Use a piping bag or simply spoon to make big dots onto a baking sheet and bake the macarons at 150 degrees Celsius (or 300 Fahrenheit) for about 5-7 minutes.
4. When they're cooled down, take two macarons of the same size, and royally spread a filling on one of them and put the other on top. Done!
One of the things I totally dislike about this recipe, and I think it counts for all macarons, is that you need aged eggs. You actually have to plan making macarons and can't decide to make some in the glory of some baking moment you might have. For someone like me that always decides a few minutes before what to make, how and where, this really doesn't help. I'm glad with they way they came out though, especially since it was the second time and I still didn't really know what I was doing. Somewhere I still doubt this is the way macarons should be. But the almond powder goes very well with milk as a hot drink.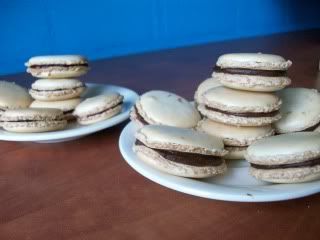 Can you see the ones I put jam with mascarpone inbetween and the ones with chocolate icing inbetween?
Tips for the macarons:
- Draw identical circles all over your baking sheet – in a nice orderly way – to mark where the macarons are going to be. This will really help if you can't seem to get the macarons in the same sizes.
- Get some inspiration from places for ideas for tastes and colours and fillings. I like to use flickr to find pictures of things. The recipe I used (and changed quite a lot) came from bakerella. She's very good at making pictures and everything she makes looks so delicious! I have a whole folder of pictures of things I found on google, flickr or anywhere else with nice ideas and things I'd like to make. Even random pictures of beautiful dresses and flowers can help inspire your bakings. You can never be creative enough!
- You can create little pictures on the macarons if you have two batches of a different colour and apparently you can add little things like lavender inside. (Oh, lavender macarons, that just sounds too delicious.)