More than a month passed without me posting anything again. Will you believe me if I tell you school takes up a lot of time? But I've got a new recipe for you now!
Actually, it's not a new recipe. But it IS a new camera! I finally got myself a Nikon D5100 and experimented with it a few times as well and it's just amazing. It makes better pictures than my small point and shoot, which is still the loveliest in the world. This pumpkin soup was one of the first recipes I made again after I got my camera, so I'm sharing some of the first pictures I made with my camera along with an update of my previous
pumpkin soup
according to my mother's recipe.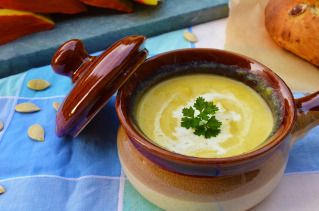 Ingredients:
Pumpkin flesh
Broth (from cubes or powder)
Water
Optional:
Leek
Garlic
Herbs like parsley, oregano or basil
Bacon (shredded or chopped)
Cream (sour, whipping, double)
Salt & pepper
1. Oil a pan with a bit of olive oil, or anything else you have, and add all the pumpkin flesh you'll be using. Put the pain over medium to low heat and leave it, depending on how much you have, about 20-30 minutes. Although it might be handy if you check the pan every once in a while in case the pumpkin starts burning, there is no actual need to stir or even check. If you are using leek, add these after 10-20 minutes and you'll be fine.
2. You will notice the pumpkin flesh is very soft after cooking all this time. Use a mixer or immersion blender to mash the pumpkin (and leek) to pulp.
3. Add the broth in cubes or powder. Also, depending on your pumpkin and how you like your pumpkin soup, you might want to add water.
4. At this time you can also add any of the optional ingredients for the pumpkin soup like garlic, herbs or bacon. Leave on a low to medium heat for another 10 minutes. I suggest frying the bacon lightly beforehand if you're using any, but it's not necessary.
5. As soon as you turn the heat off and the soup stops boiling, you can add your sour, whipping, double or any other kind of cream (almost all of it works lovely) and stir.
6. Serve directly after. Or wait until it cools down to eat this soup cold.
The soup you see on the pictures is made with garlic and cream. A week later I made the same soup and added oregano and a bit more broth and salt, as the previous was very sweet. My mom made another pumpkin soup after – we had a lot of pumpkin – and added garlic, bacon and oregano. Personally I think the bacon overwhelms the taste of the pumpkin, making the soup a nicer and edible version of the famous dutch 'erwtensoep' (pea soup).
Since we have so much pumpkin, and still do, I also decided to make some bread, which I will post later on along with roasted pumpkin slices with maple syrup. Perhaps I can also try a pumpkin cake. Maybe jams? Are there any suggestions on what to do with a lot of pumpkin?