It is a phrase from the anime Yumeiro Pâtissière, which I mentioned in the last post. Quite frankly the way it's used in the anime has nothing to do with what I'm talking about, but this post is all about decorating cakes so I found it appropriate. Sometimes I feel a lot of the smaller cakes are not so much about taste anymore but just about being pretty. So I had a look into how I can makes cakes pretty. Since I was still in Belfast when I made this cake and I couldn't do much in the kitchen, this cake is really just a plain cake with prettiness. I took a plain round sponge cake which I cut into square pieces and I matched two pieces per cake to decorate. This is what I ended up with: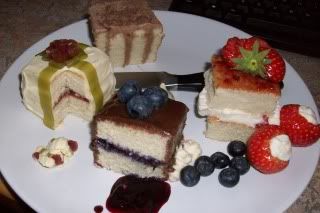 I'm going to name them Whipped cream present, Chocolate blueberry, Strawberry cream, and Chocolate cake. Can you guess which is which? Also, don't you think I'm original with names?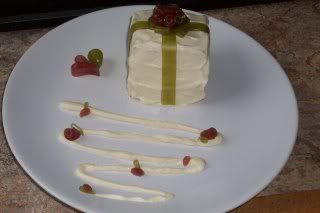 Whipped Cream Present
This cute lil' cake was made by stacking two cake squares on each other with a layer of raspberry jam in between (the only jam I had). Then I covered the cake in whipped cream – I hand whipped that cream, something I wouldn't advice you do. The green and pink flower decoration is made from fruit rolls I found in the supermarket and I played with the day before. I have to say I like the tiny roses the best of the whole cake. At last, the plating is done with a line of whipped cream and some more fruit roll roses.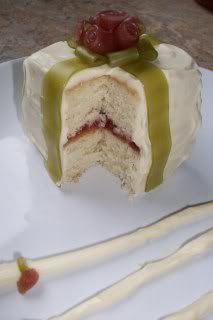 Chocolate Blueberry Cake
I squashed a few blueberries in a pan and heated it up with a little bit of water and sugar to make a jamlike substance. I stacked two cakes on top of each other again and added the blueberry jam in between. I covered the whole cake in ganache (chocolate + cream). For the plating I took the rest of the blueberry jam and made a huge swirl on the plate. I used a fork to make the spider web effect by dragging it over the plate lightly. Make sure to sift the jam when you do this, as lumps will get in the way of the piping and spoil the overall effect. I tried blueberries on top and whipped cream next to the cake for the finishing touch. I have to say I don't like the whipped cream there so much, but I do feel it needs something to the side of the cake.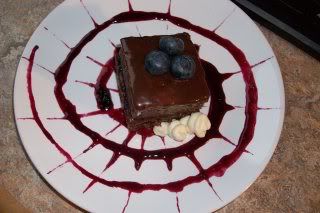 Chocolate Cake
I made this cake by adding a bit of melted chocolate to the cream and stirring and then letting it cool a bit. After a while of cooling I whipped the cream like normal whipping cream. The effect you get is a chocolate whipping cream. If I had cacao powder and sugar I would've used that; it's far more fool-proof. I cut the two cakes in half and spread the chocolate whipping cream in between. Because the cake was oddly shaped I ended up putting the cake on the side which also prevented the 'splat-effect' (which is explained with the next cake). I covered the whole cake in more chocolate cream and plated it by putting some chocolate whipped cream swirls on the plate and a hersheys kiss. I wish we could buy those kisses here, because I'd be so addicted. Later I also added a bit of chocolate sprinkles, because I felt the composition was too plain.
I remember the chocolate whipped cream tasting like some kind of nuts and not chocolate at all. I did buy the cheapest kind of chocolate, so I blame it all on the quality, but I'll have to try this out again.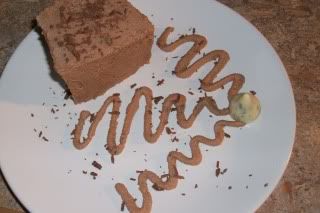 Strawberry Cream Cake
One square piece of cake, strawberries covered in whipped cream and another square piece of cake with raspberry jam on top: that's how this cake goes. I realized I used too much cream between the cake layers, so that when you cut it, you'd get a 'splat-effect' or all the cream dripping out from the sides and the entire cake gaining in width what was reduced in height. I have no other words for it. For the plating I sliced a few cuts in a strawberry with the green crown still on and spread it like a hand fan. I filled the tops of a few other strawberries with cream and put these to one side. The rest of the plate was filled with whipped cream dots and blueberries. Personally I think the blueberries are very out of place since there are no blueberries in the cake (only raspberries in the jam which we'll pretend is strawberry jam). But I do think it adds some color and fills up space. However I'm still going to need to find a better way to plate this kind of cake.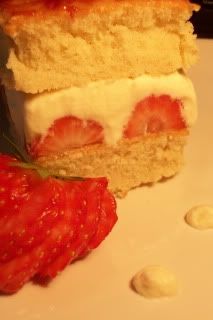 And there you go! A few ideas for how to go about decorating and plating cakes. I hope I've inspired you. If you want to see more ways to make your cake look nice on a plate you should look up 'plating cake' or 'plating food' up in google pictures. You'll come across a lot of wrong and right and beautiful ways to show off what you've baked.
Enjoy!